I'll be at Katsucon February 17, 18 (leaving at noon on Sunday (flight kerfuffle) so show up early and often!)
It's at the Gaylord National Resort and Convention Center in the National Harbor, Oxon Hill Maryland.
I have two panels!
Friday 2017.02.17, 10:45pm 11:45pm, Live 6, The Devil's Panties
Saturday 2017.02.18, 7:00pm 8:00pm, Live 8 (HCC), How to Make Money from Webcomics AKA Living with Roommates!
by obby
on
12/03/2016
at
1:53 am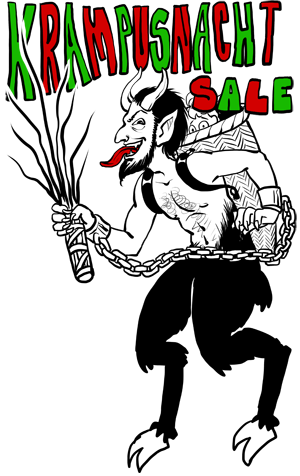 Time for our annual Krampusnacht Sale! This year we have all 7 ID books, along with a bag and a Krampus print for $66.66!
If you got last year's Krampusnacht special, then you can catch up with the Lil Krampus for $26.66.
Check out both Krampus deals at the store: https://store.thedevilspanties.com/collections/krampus-sale
If you're outside the US, you can avoid shipping costs by going through Amazon for the individual books:
Canada: http://amzn.to/2gxU3dC
United Kingdom: http://amzn.to/2fVDfJnu
Germany: http://amzn.to/2h4sI3X
Spain: http://amzn.to/2h4nN2G
Italy: http://amzn.to/2gQZDs9
France: http://amzn.to/2fRz4TU
You know you've been naughty this year, so why not just seal the deal?
Happy Krampusnacht!
-obby