on
01/13/2012
at
12:00 am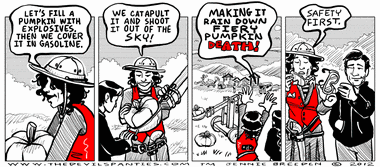 I think we did load a small pumpkin with explosives but never got around to the catapult or gasoline.
DAMMIT, I forgot his hat in the third panel.
umm… he took it off for effect for that panel and then put it back on… yeah.
That's my other brother, the younger of the two, in the last panel. In the background are my big brothers creations; mermaid with flame thrower boobies, dragon, head made of VW hoods, and giant tour bus.