Posts Tagged 'box'
2 results.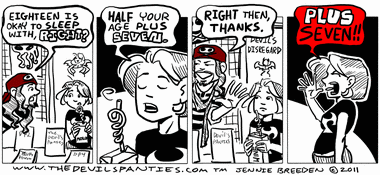 Box of wine! I can't believe we found a little juice box of wine. I wanted to find a silly straw to drink my juice box of wine from but I never found one. That's the nice thing about having your own reality to play with. In the comic, I am that cool to have a silly straw to drink my boxed wine from.
Check the back banner. It says "devil's disregard" in the last panel. On Nigel's side of the booth there's a painting of kind of a Cthulhu thing.
I don't know who came up with Half your Age Plus Seven. I've been told that if they're hot, it can be plus five. Nigel kind of disregarded the plus seven part of the equation.