on
11/03/2011
at
12:00 am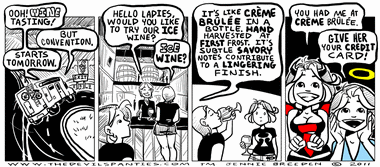 We got the Ice Wine at Tawse Winery. I'm only disappointed in how little the bottles are. Obby and I opened the bottle that I got just to "try it" and then no more wine. Next time I'm getting three bottles. If someone asks me what kind of drink I like now, I'm saying Ice Wine.
Echo is amazing! I'm so used to just going from the airport to the convention center. I said "wow, look at all the grape vines next to the highway." and next thing I know we're poking our way around back roads using a tourist flier to hunt down the vineyards spotted about the fields of Canada. It was between Niagara Falls and Calgary? on our way to Fan Expo.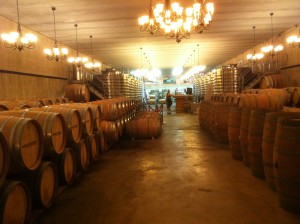 The photo is from Megalomaniac Wine. They had the BEST titles to their wines. "Narcissist Riesling", "Show me your Omnipotence and I'll show you mine" Cabernet Franc. Their bottles were embossed with things like "A life of wanton luxury sounds excellent to me" and "My delusions of grandeur are way bigger than yours". It's built into the earth and the walls are part of the stone of the mountain, naturally cooling the whole place. Like I said, Echo is awesome.