on
08/31/2015
at
12:00 am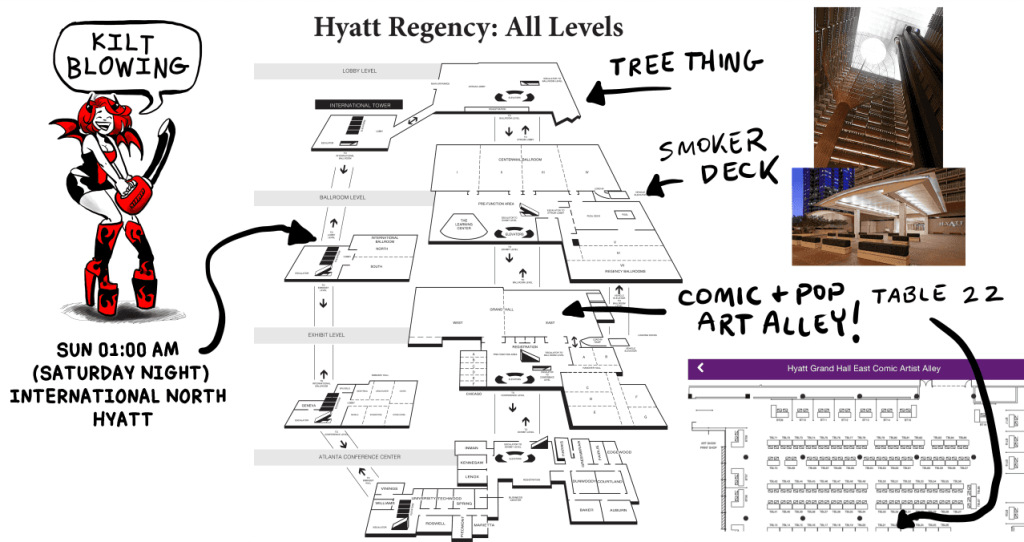 Link to this map
Link to the kilt blowing sign up
My panel schedule:
Title:Â The Complete Guide to Creating Comics, Day 2: Designing Characters/Drawing Pages
Time: Sat 02:30 pm  Location: Hanover F – Hyatt (Length: 1)
Description:Â Day 2: character design (good & bad), making fun & interesting comic pages, & using art to tell a story.
Presenters:Â Jennie Breeden, Alex Konat, Comfort Love, Adam Withers, V Ken Marion
Title:Â Kilt Blowing with Jennie Breeden
Time: Sun 01:00 am (Saturday night) Location: International North – Hyatt (Length: 1)
If you'd like to be… uh… blown, then here's the sign up sheet!
Last years kilt blowing photos are here.
Title:Â Self- Publishing Comics
Time: Sun 01:00 pm  Location: Hanover F – Hyatt (Length: 1)
Description:Â You don't need a publishing house to get your comics out in the world! Creators tell how they did their own way.
Presenters:Â Joe Benitez, Jennie Breeden, Maki Naro, Josh R Trujillo
Title:Â Down & Dirty Marketing for Authors
Time: Sun 04:00 pm  Location: 201 – Hilton (Length: 1)
Description:Â Navigating the new world of e-publishing, & why print is still an important medium for any author platform.
Presenters:Â Jennie Breeden, Sascha Illyvich, Gail Z. Martin
Title:Â Webcomics
Time: Sun 07:00 pm  Location: Crystal Ballroom – Hilton (Length: 1)
Description:Â A behind-the-scenes look at successful web-based comic strips.
Presenters:Â Jennie Breeden, Bill Holbrook, John Lotshaw, Comfort Love, Adam Withers, Yale Stewart