Posts Tagged 'thanksgiving'
24 results.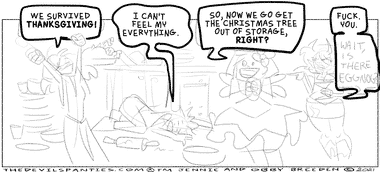 I spent all day cooking so I never got around to a comic.
Last year I learned that you peel the sweet potatoes three days early and cook them the day before. Also, new potato peeler to save your hand. Also squishy kitchen mats to save your back. I also impulse bought stuffing and mashed potatoes at the butchers along with the smoked turkey. This year was much less painful. Still exhausted, but less pain. I did run into the conundrum of the prime rib taking two hours in the oven where you couldn't open the oven and I realized I had to push dinner back a half hour so I could cook everything once it was done. I had the kid eat vegetables as her appetizer because we didn't have any vegetables for dinner. I don't count the green bean casserole because I made sure it was mostly fried onions. We had four starches, two meats, and whatever food group fried onions is.